Majoritatea utilizatorilor de Windows sunt familiarizati cu Microsoft Office. Majoritatea dintre noi folosim unu sau mai multe programe Office in utilizarea de zi cu zi. Utilizatorii care folosesc Office 2007 sau Office 2010 stiu despre interfata Ribbon si avantajele acesteia.

Dupa cum stiti cu totii, Microsoft a incorporat interfata Ribbon in Explorer Windows 8. Interfata Ribbon din Explorer permite accesul rapid la foarte multe comenzi si optiuni fara a accesa meniul file. Aceasta interfata poate fi minimizata si maximizata oricand doriti doar apasad Ctrl + F1. Se pot accesa toate optiunile si setarile interfetei Ribbon folosind comenzile din tastatura.
Daca nu va puteti aminti toate scurtaturile din tastaturia si doriti o modalitate usoara si buna de acces asupra principalelor comenzi si optiuni, va voi prezenta solutia.
La fel ca in Office 2007 si Office 2012, se pot fixa comenzile si optiunile favorite pe Quick Access Toolbar. Dupa cum poate stiti, toolbar-ul este localizat in coltul din stanga sus si puteti adauga orice comanda sau optiune, avand acces la acestea fara a mai maximiza interfata Ribbon.
Urmariti pasii de mai jos pentru personalizare, adaugand noi comenzi. [adsense float="center"]
Pasul 1. Deschideti Windows Explorer (mai nou File Explorer) facand click pe iconita acestuia din taskbar sau apasand tastele Windows + E.
Pasul 2. Acum, daca interfata Ribbon este minimizata, apasati Ctrl + F1 pentru a o maximiza. De asemenea, aceasta poate fi minimizata / maximizata facand click pe butonul sus/jos aflat in coltul din dreapta sus.
Pasul 3. Comutati la orice tab, click dreapta pe comanda / optiunea care o doriti in Quick Access Toolbar si apoi selectati Add to Quick Access Toolbar. Pentru a elimina orice element de pe bara, faceti click dreapta pe acesta si selectati Remove from Quick Access Toolbar.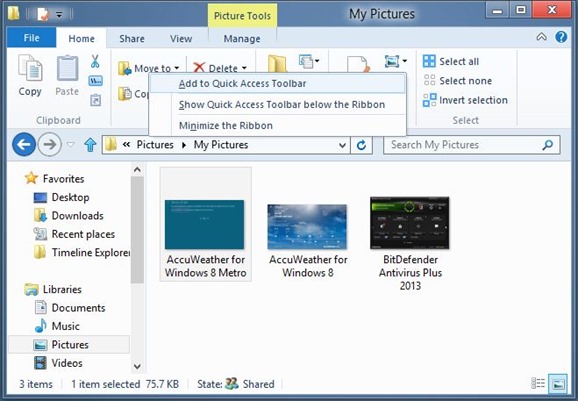 Sfat: Puteti de asemenea sa schimbati pozitia acestui toolbar oricand doriti. In mod normal acesta apare deasupra interfetei Ribbon, dar o puteti face sa apara sub Ribbon, facand click dreapta pe aceasta si alegand optiunea Show quick access toolbar below the ribbon.