Fix cu un an in urma va prezentam un articol cu sfaturi despre optimizarea (conservarea / economisirea) bateriei in cazul telefoanelor care ruleaza Windows Phone 8. Tutorialul inca este valabil pentru cei care inca folosesc WP8 pe telefon, dar in cazul in care ati facut update catre Windows Phone 8.1, lucrurile s-au mai schimbat oarecum. Acum exista o altfel de organizare, WP8.1 este structurat putin mai diferit de versiunea anterioara.
Pentru a economisi baterie pe Windows 8.1 putem proceda astfel:
1. accesam Settings – Battery Saver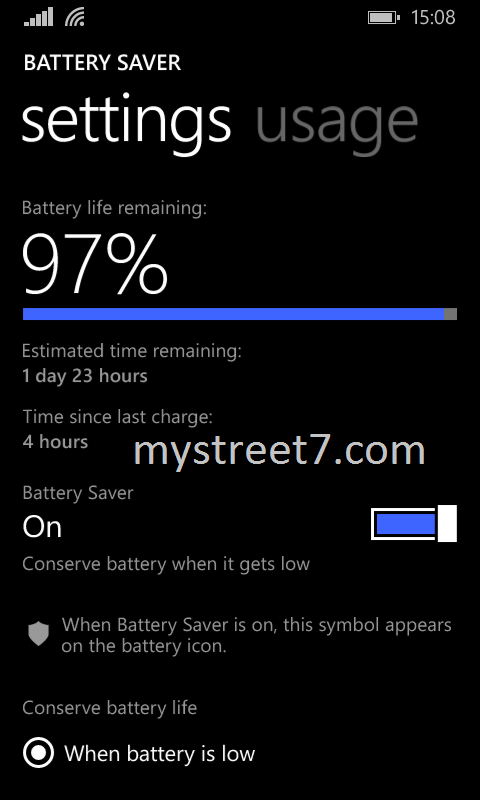 2. activam optiunea Battery Saver. Odata activata aceasta optiune, in momentul in care bateria va avea doar 20% energie, va aparea un simbol pe iconita bateriei din coltul ecranului.
Extra: Cum revenim la Windows Phone 8 de la 8.1
Limitam aplicatiile care ruleaza in background
1. aflandu-ne in Settings – Battery Saver , glisam spre stanga sau dreapta pentru a accesa tabul USAGE. Aici vom gasi o lista cu toate aplicatiile care ruleaza sau pot rula in background.
2. vom bloca rularea in background a aplicatiilor care nu ne intereseaza. Cum facem acest lucru? Accesam aplicatia din lista si glisam butonul "Allow app to run in the background" spre stanga.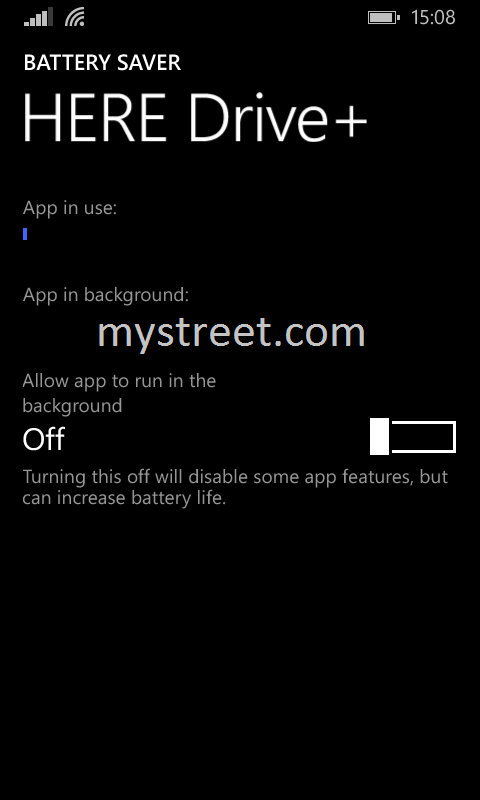 Sfatul meu e sa blocati cat mai multe aplicatii in cazul in care doriti sa conservati cat mai mult bateria telefonulul. Insa, odata oprite acele aplicatii, nu va vor mai afisa automat notificarile pe ecranul Start.
Dezactivand aplicatiile din background, bateria va tine mult mai mult, dar veti face economie si de MB.
– limitam timpul de blocare al ecranului. Cea mai scurta perioada pe care o putem seta este 30 secunde. Dupa scurgerea acestui timp, ecranul telefonului se va bloca si se va stinge. Facem asta accesand Settings – lock screen.
– setam o luminozitate scazuta. Nu recomand ajustarea automata a luminozitatii. Senzorul poate consuma mult mai mult decat daca am fi setat noi un anumit nivel al luminozitatii. Eu folosesc tot timpul nivelul mediu. Settings – Brightness.
– setam un background intunecat. Settings – Theme – Background – Dark.
– inchidem ecranul in timpul convorbirilor via speaker sau casca bluetooth, apasand butonul de power.
– setam sincronizarea manuala a mail-urilor. Settings – Email + accounts.
Dezactivarea bluetooth, wi-fi, 3G, atunci cand cand nu e cazul nu cred ca trebuie sa o mai repet. Pot fi dezactivate mult mai multe optiuni pentru a conserva bateria, dar deja o dam in paranoia.